All around the Anaheim area are fun ways to celebrate the Fourth of July. A staple is the patriotic fireworks show at Disneyland. Set to all-American music, the nightly show at 9 p.m. kicks it up a notch for Independence Day. However, the crowds gather early, so you'll want to find your spot by no later than 7 p.m. Another option is The Fifth on the roof of the Grand Legacy at the Park for BBQ, live entertainment, and the only non-Disneyland view of the Disney fireworks show.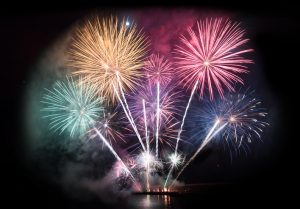 Others head to Newport Beach for entertainment and activities all day long. The fireworks display at the dunes is coupled with live music, a beer garden, family fun zone, and local artists showcasing their goods. There are plenty of food vendors and trucks around the festival so you can sample the best grub in southern California.
Light Up the Night
In nearby Santa Ana, the annual party begins in Centennial Park at 4 p.m. With face painting and fun for the little ones in the Kids Zone Play Area, it's a fete for all. The fireworks begin at 9 p.m. with a tribute to the Armed Forces. Bring blankets and lawn chairs to make yourself cozy for the 20-minute fireworks display.
Knott's Berry Farm also puts on a show, starting with the Mountain Fife and Drum Corps marching through the park starting at 2:30 p.m. Patriotic music fills the night sky as the Salute to America fireworks show begins at 10 p.m. Where will you be watching the show this year?