Dine in or get a feast to go; choose traditional or select an innovative spin. Thanksgiving in Anaheim has something for everyone, starting with Disneyland! The Grand Ballroom at the Disneyland Hotel hosts a massive buffet with ham, turkey, roast beef, a myriad of sides and too many desserts for any one guest to handle. Children have their own buffet stations, and of course your fellow guests will include favorite characters.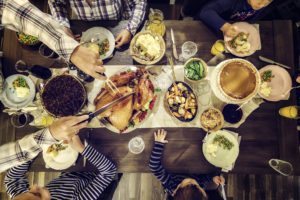 Head over to The Storytellers Café for an impressive dinner buffet with hand-carved beef and turkey, a variety of stuffings and dressings, candied yams and all your favorite Thanksgiving desserts. For those who prefer an upscale prix fixe, Steakhouse 55 is offering a three-course meal with roasted turkey and brioche stuffing, Swiss chard with mushroom gravy, delectable cranberry sauce and special desserts.
A Feast for All
At Carnation Café, you'll find a slow roasted turkey smothered in bourbon gravy, cranberry and apple stuffing, roasted veggies, and mashed sweet potatoes. Harbour Galley is dishing up their famous turkey tortilla soup featuring south of the border spices. The French Market is famous for their Thanksgiving turkey breast and Andouille sausage stuffing, artisan bread with house cranberry sauce, and market potatoes.
Try the Carthay Circle Restaurant for free-range turkey served alongside poblano chiles and mushroom tamales. Their creamed corn dipped in turkey jus can't be missed. The Pacific Wharf Café is crafting their annual turkey pot pie soup served in a bread bowl with pumpkin spice bread pudding for dessert.
Where will your Thanksgiving begin?