Anaheim is home to two authentic Ethiopian restaurants where you can taste the flavors of one of Africa's most flavorful countries. Tana Ethiopian Restaurant and Market is located at 2622 W La Palma Ave. and specializes in homecooked dishes. The relaxed environment is perfect for a business dinner, casual date, or family outing. Start with the sambusa to share and a cup of the staple vegetarian soup.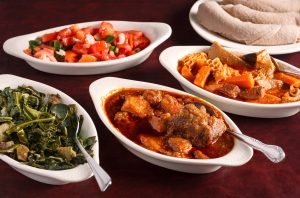 Favorite dishes include the yemiser wot with red lentils stewed in spices and a red pepper sauce with garlic and ginger. The kik alicha is also popular, featuring yellow split peas with onion, ginger, and garlic. Vegetarians love the classic cabbage dish with garlic, ginger, and carrots.
A Taste of Africa
You'll find Abyssinia Restaurant at 2801 W Ball Rd. serving specialties like the doro wat, lamb tibs, and veggie platters. The spicy red lentils here have a loyal following, and the dimly lit ambiance at this family-owned restaurant is perfect for an evening out. Traditional music adds to the authentic vibe, and many diners choose to share the traditional platter course.
The injera flatbread is ideal for soaking up the variety of spices and colors of each dish. Swiss chard and curry are just a couple of the side dishes suitable for vegetarians.
Try both and see which restaurant is your favorite.