Southern California is full of premium Italian restaurants, like Baci in downtown Anaheim where the dishes are elevated in an upscale environment. Perfect for a date or business outing, the classic dishes are paired with an extensive coffee, wine and dessert menu. Sit on the outdoor patio to enjoy the tail-end of summer or in the elegant dining room for an intimate lunch or dinner out.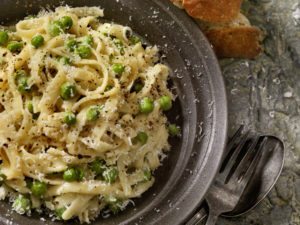 Rufino's Italian Restaurant is another favorite, featuring a charming décor and known for the tender veal and al dente pasta since 1967. Another pick with an extensive wine and dessert menu, you'll want to save room for the house tiramisu with a cup of espresso. Here, traditional fare is the star with gorgeous plating and impeccable service.
Pasta in Paradise
At Roman Cucina, enjoy lavish cocktails with your pasta and premium subs. A must for happy hour, start with the pepperoni garlic bread or fried calamari. The martini list includes the Italian Ice with Smirnoff citrus vodka, triple sec and sweet and sour. The Banana Split is dessert in a glass, featuring Smirnoff vanilla vodka, Godiva white and dark chocolate, and crème de banana.
Angelo's and Vinci's Ristorante has Sicilian puppets as part of the décor, an enormous wine cellar and an impressive lunch buffet. This playful destination is where you'll want to order a pizza to share with premium toppings like gorgonzola, artichokes and Kalamata olives.