Craving mint juleps, beignets and jazz? You'll feel instantly whisked to New Orleans when you enter the Mint Julep Bar. This charming, old-fashioned destination is known for strong espressos, authentic beignets, and a variety of non-alcoholic, southern cocktails for those who wish to imbibe without completely indulging. It's a favorite spot for day dates and business meetings.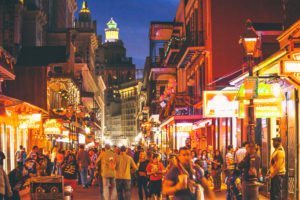 At Ralph Brennan's Jazz Kitchen in Disneyland, you'll experience an entirely new kind of magical, small world! Here, it's all Creole fare and live jazz while still staying family friendly. Satisfy your cravings for jambalaya, gumbo and of course bananas foster while being treated to the best jazz in Anaheim.
There's also the Jazz Kitchen Express where you can get your piping-hot, smothered-in-powdered-sugar beignets on the go. They're messy, as they should be, and the perfect fun snack for little ones energizing up for the next Disney adventures.
Old School Entertainment
Café Orleans is another Disney favorite, and it's considered a veteran of the famed park. In casual surroundings with a sprawling patio, you and your family can enjoy Cajun and Creole favorites in between wild rides and the best entertainment in California.
Where will your jazz leanings lead you?