When you're in the mood for tapas, sangria, fresh seafood, Barcelona-style, or another favorite Spanish dish, nothing else will do. Head to the Felix Continental Café, a homey getaway specializing in Spanish and Cuban fare. Available for breakfast, lunch and dinner, try the Shrimp Louisianese, featuring shrimp beer battered and coated with coconut, served with a horseradish, orange and mustard sauce.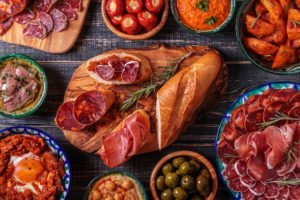 The roasted Chicken Cubano is a half chicken seasoned with salt, pepper, lemon and garlic. Pierna de Puerco is a pork leg roasted in drippings with seasoning and a bitter orange for extra bite. With the Boliche Mechado, you'll enjoy eye of round beef stuffed with chorizo imported from Spain and slow-cooked.
Flavor Fiestas
Try Olé! Spain Deli Shop where you can eat-in at the sandwich shop and grab some treats to go from the store. On the traditional menu, you'll find Tortillas de Patatas with chorizo, potato and onion in an omelet, served with house bread.
Paella is now served daily at Ole! Saffron rice with mussels, shrimp, pork loin, chicken wings, chorizo and a red bell pepper is sure to satisfy. Get Carlota or Flan for dessert, or take it to go in case you over-indulge on the tapas options.