Hurry and pick up the pace, because you only have a few weeks left to register for the epic Star Wars Half Marathon! It's not until January 2017, but bibs always sell out and it's critical to register before the end of July. You can register, get course information, and find out details on the swag at the official site. Running in costume is highly encouraged, but not required. Spectators are also urged to show up as their favorite character.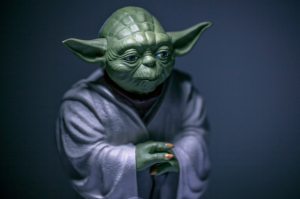 Registration begins June 14, right in time for you to start training for one of the best half marathons in town. However, it's not just a half that's at stake. You can opt to enroll little ones in the Padawans or Jedi Knights runs, suitable for a variety of ages. There's also a 5k, 10k, and an out of this world running adventure!
There is No Try
Don't miss out on the runDisney Health and Fitness Expo before the races, taking place January 12-14. It's HQ for all you'll need and is required for picking up your bib, shirt and gear packet. You can also check out more merchandise and get an early peek at what's in store.
A speaker series on-site features a slew of celebrity runners and last minute trainings on nutrition and strategies. Don't wait—it's not as far, far away as you think!