In nearby Cerritos, you'll find one of the most popular Peruvian restaurants in Southern California. Located at 11433 South St., El Rocoto Restaurant is known for a sunny room for dining, pisco sours, and a full bar that's wildly popular for happy hour. The small plates are paired with handcrafted cocktails, and fresh local ingredients are sourced whenever possible.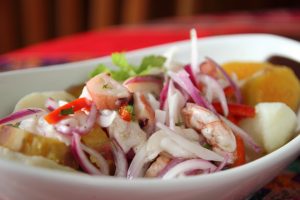 Try Aji Limon in Buena Park at 7035 Lincoln Ave. for fresh fried plantains and the freshest ceviche featuring Pacific fish and shellfish. Saltado de pollo, or strips of chicken simmered in onions and tomatoes and served with a side of French fries, is a popular choice. Save room for the picarones, Peruvian doughnuts, and other decadent endings.
Small Plates Pack a Big Punch
A short drive to Huntington Beach takes you to Peruvian Rotisserie Chicken at 19092 Beach Blvd S. The counter-service hot spot is known for its namesake—perfectly seasoned chicken along with ceviche and a host of Peruvian dishes. Pair it with imported beer for the perfect beachside dining experience.
Chicama Peruvian Restaurant in Stanton at 6959 W Cerritos Ave. is a casual pick where you'll find empanadas and lomo saltado (beef strips cooked with red and green onions, and cilantro). The arroz con mariscos, seafood in cilantro rice, is a favorite summertime pick. Try all four places and decide for yourself which is the most authentic, most flavorful, and best highlights the taste of both Peru and Southern California.