Halloween in Anaheim is guaranteed to thrill, and when you're traveling with the kids, it's all about the trick or treating. Nearby, you'll find Rustic Cowan Heights in Santa Ana. It's a favorite neighborhood for locals because the gorgeous homes are known for handing out the best, biggest candies. Here, you'll find unbelievable costumes, gourmet treats, and a neighborhood that knows they're the best—and are committed to keeping that reputation.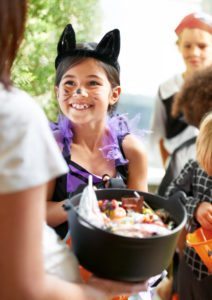 You'll also want to check out Anaheim Town Square's tricks and treats, every Halloween from 3 – 5 p.m. It's ideal for younger kids or anyone who wants to get a head start on the night's mission. You'll also enjoy costume contests, face painting and pumpkin decorating. Most stores participate in the shenanigans, and you can tell by the pumpkin balloons and decals by their entrances.
All Treats, No Tricks
Head to downtown Huntington Beach and start strolling the neighborhoods for some top-notch candy. Main Street shops also participate, and many local families haunt on their porches to give out fistfuls of sweets to those in costumes. You'll find many haunted houses here and an old-timey Halloween vibe.
Nothing trumps Mickey's Halloween Party at Disneyland, complete with admission to the park three hours before the party starts! Take advantage of five full hours of trick or treating, haunts, costumes and more at a level that only Disney can pull off! Fireworks, a headless horseman and character greetings are all included.