Head to Angel Stadium June 2nd and see the local LA Angels of Anaheim take on the Minnesota Twins in the hallmark of summer sports. "Take me out to the ballgame" has an entirely different meaning in Los Angeles when you're at a famous stadium where the amenities, snacks and beverages are all A-list status.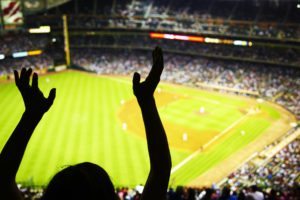 Located at 2000 Gene Autry Way in the heart of Anaheim, you can get tickets at Ticketmaster (or at the gate if you're lucky). MLB Baseball is the perfect highlight of any Anaheim trip, whether you're here on business or on vacation and taking a Disney break. In addition to an exciting game, enjoying all the amenities of Angel Stadium is reason enough to book your seats!
What to Expect
Forget peanuts and cracker jacks (unless you love them, because Angel Stadium has those, too!). Come hungry, because you won't want to miss out on Angel wings with garlic fries and chicken tenders. At Battered Up, you'll find hand-dipped corn dogs, funnel cakes and other carnival favorites. Try the goodies at The Big Cheese where grilled cheese classics, with bacon or with short ribs, go gourmet (served with tomato soup, of course).
Burger Bites is known for their sliders on Hawaiian rolls, while the Broken Bat Club is where you'll find the staple hot dogs in two sizes and packs of peanuts. At Chili Cheese Fries, get classics along with sweet potato fries and even funnel cake fries! From Crafty Dogs to Chronic Tacos, Angel Stadium is a foodie delight.