Arguably one of the most famous landmarks in southern California, few can say why Sunset Boulevard is so well-known. It's located in central and western L.A. County, stretching from the Pacific Coast Highway to Figueroa Street in downtown. At 22 miles long, it's a lovely and relatively short trip, but takes drivers through notorious mountainous spots that hug the Los Angeles Basin. In the 1780s, what's now Sunset Boulevard was a cattle trail from Pueblo de Los Angeles to the Pacific Ocean.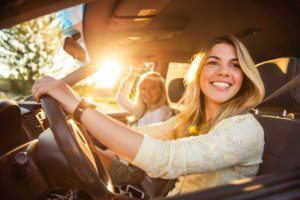 It'll take you from downtown to Hollywood, heading west before slightly curving to the Pacific. Take Sunset Boulevard past Echo Park, Los Feliz and Silver Lake before reaching Hollywood and Beverly Hills. It's also in Bel-Air, hugging UCLA's Westwood campus boundary. Finally, it reaches the Pacific Palisades and Brentwood.
A Ride to Remember
Sunset Boulevard is known for its curves, sometimes treacherous to the unfamiliar. At its widest, it offers four lines, but is often congested like much of L.A. In the past, it went farther east, reaching into the historic regions of downtown. However, that area has been re-dubbed Cesar Chavez Avenue as of 1994.
Since the 1950s, Sunset Boulevard has been known for its thriving nightlife, and in the 70s it unfortunately became famed for seedy activity. However, other parts of the boulevard are known at Guitar Row thanks to the influx of guitar shops and music industry stores. Today, it's well worth the 22 mile drive, including a stop at 4334 W. Sunset Boulevard to see the mural of Elliott Smith where fans leave messages to their hero.