Have you ever dreamed of piloting your own plane, learning the skills of a fighter pilot, or manning a massive Boeing? You can at Flightdeck! Choose from 30-, 60- or 90-minute flights as well as between a Boeing commercial airliner or fighter jet. Introductory packages let you feel what it's like controlling a jet airliner from a runway taxi to takeoff and reaching full altitude. You'll master turns, see your favorite landmarks from the cockpit, and nail that perfect landing.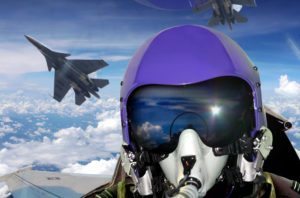 Go for a longer session and you'll learn all the pre-flight tasks from configuration to systems initiation and engine start. It'll give you a better background for what's happening during your take-off, climb and final descent. Plus, with your extra training, you'll also be ready to handle some inclement weather that Flightdeck throws at you!
The Big Guns
In 90 minutes, you get the ultimate experience. Discover what it's like to take off and land at the most famous airports in the world including Kai Tak in Hong Kong. The weather conditions can be rough, and adrenaline is pumping, but you can handle it. You'll also see what really happens during an in-flight emergency, including diverting to another airport.
Many pilots-to-be fall in love with their experience and up the ante with a Transition to Glass, FMC Introduction, or Airline Pilot Prep adventure. Group rates are available, or come and fly solo during your next getaway to Anaheim. Where will the friendly skies take you?