Every Thursday from 11 – 4, the traditional downtown farmers market and craft fair gives visitors and residents a chance to sample and discover the best produce, meats, pastries and works of art in one festive setting. Located at the Center Street Promenade, scores of farmers, food vendors and artists gather to showcase their best work. It's the perfect place to dine, discover a treasure for yourself or to give as a gift, and get a glimpse of the real Anaheim.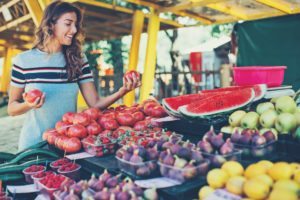 You'll often find free musical performances and shows as you shop and sample, featuring top local talent. Two hours free parking is available with validation (at each booth), and special events happen year-round including the Art Crawl Experience (ACE) August 19th.
Art for All
ACE is a smorgasbord of delights, part art walk and part festival, happening from 6 – 10 p.m. You'll find local artists bringing art and culture to the heart of downtown, highlighting art in a variety of public spaces. With pop-up galleries and street artists putting on quite the show, it's the biggest independent craft festival in the city.
Nearby shops and galleries also join the fun with tastings and pairings to go with the art in this fun-filled family experience. Stretching all the way from Anaheim Boulevard to Harbor, you're encouraged to "walk, crawl or climb" this quarterly event.