What better way to keep cool than by sampling the best ice cream shops and parlors in Anaheim? Start your sweet retreat at Joe's Italian Ice, located at 2201 South Harbor Blvd. With Italian ice served Philly-style, soft serve ice cream, and old-fashioned, hand-scooped Dreyer's, there's something for everyone. The Bada Bing Cherry, Cactus Cooler, and Mango Tango are just a few favorites you'll want to sample.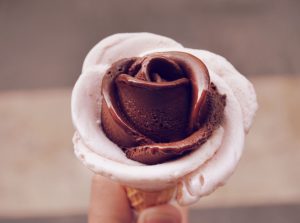 Disneyland is full of decadent ice cream, and one of the most popular is Clarabelle's Hand-Scooped Ice Cream. Get the 3-scoop sundae to share so you can keep the Mickey sink cup. Featuring three scoops of whatever Dreyer's flavor you want, whipped cream, cherries and hot fudge, it really is everything but the kitchen sink—except now the "sink" is also included!
Keep Cool
Andrew's Ice Cream and Desserts in nearby Orange, located at 1549 East Katella Ave., Unit C, is a counter-service parlor that makes their treats in house and in small batches. Both traditional and unique flavors can be found here, like banana blueberry cheesecake, horchata, cotton candy, and homemade apple pie.
Rich Farm Ice Cream is worth the short drive to Placentia at 901 East Yorba Linda Blvd., Suite F. Featuring dairy-fresh ice cream, you can get ice cream cakes, no-sugar-added ice cream, Greek frozen yogurt, fresh house-made waffle cones, and of course dozens of flavors. Seasonal flavors are always changing, but the classics include black raspberry, butter crunch, peaches and cream, and mocha almond fudge.