Nestled just a few miles away in Orange, the Santiago Oaks Regional Park is open from 7 a.m. to dusk year-round. Parking is $3 on weekdays and $5 per day on weekends. It's the ultimate getaway for residents and visitors alike, hugging the Santiago Creek and offering 1,269 acres of sheer paradise. Secluded and brimming with trails, it's a favorite for bikers, hikers and equestrians who want to experience the beauty of southern California's mountains and orange groves first-hand.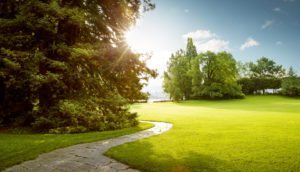 Stroll beside a gorgeous creek and discover what the forest has to share with you. You'll see an impressive number of native plants and trees along with resident animals and birds. Find the lookout that offers an incredible view of the foothills and city of Orange, or pack a picnic and dine in the true Anaheim way, al fresco style.
Plan Your Trip
Five years ago, almost 200 coastal live oaks were planted as part of a restoration project. The trees have provided a fantastic background to the visitors exploring the interconnecting trails. Linking to the Anaheim Hills Trail System, there's also a nature system where programs and exhibits take place throughout the year.
Join a nature walk, interpretive activity or connect with a local equestrian club to schedule a ride. The park is the perfect complement to an otherwise busy trip of beaches, Disneyland and legendary shopping.