The Los Angeles County Museum of Art is a brief drive from Anaheim, and the standout building has been an L.A. landmark since opening in 1965. Featuring works that span geography and history while showcasing the diversity of the region, it's the biggest art museum in the western half of the country. Here, you'll find more than 130,000 objects from several centuries and around the world. Visit the Latin American art, pre-Columbian relics, Asian art, Islamic art and contemporary showcases to discover incredible gems at this must-see attraction.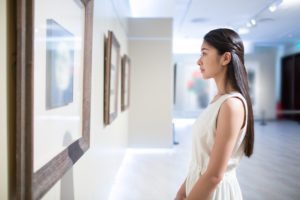 Most of LACMA's galleries and exhibits come from public programs and research institutes. Millions visit each year, and the digital programs with online collections and interactive options are a fantastic way to keep in touch with LACMA when not in the L.A. area. You'll find LACMA on 20 acres at Hancock Park right in the heart of L.A. Conservation, interpretation and exhibition are at the center of LACMA's mission.
Art with Heart
Special exhibitions available in May include Moholy-Nagy: Future Present, Unexpected Light: Works by Young Il Ahn, and The Inner Eye: Vision and Transcendence in African Arts. You won't want to miss Tony Smith: Smoke, the Los Angeles to New York: Dwan Gallery 1959-71, or any of the art programs available for all ages.
Adult art classes include Drawing from Sculpture, Focus on the Figure, Dreams: Exploration of Surrealism, Drawing and Painting, and several one-day, special workshops. Kids' workshops are also available, and the LACMA film series highlights a variety of pieces throughout the year. Find out more and reserve your tickets in advance at the official site.