Orange County's got "Hart," a dog-friendly park and greenspace that's a favorite for families. Located in nearby Orange, it's the sister park to Anaheim's Pearson Park and just a short drive away. Nearby, you'll find historical buildings, an outdoor arena for concerts and mature trees. The spacious parking lot and clear, cool pool are just a couple of reasons this park is so popular.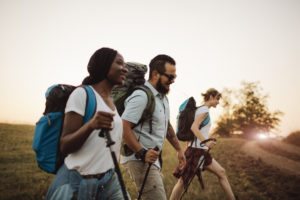 The parking lot is underground, helping to keep visitors cool when leaving the greenspace. It was originally designed to channel Santiago Creek in the 1930s when the park was first built. Located near Old Towne Orange, it's a perfect place to kick back and relax after a day of exploring, shopping and dining.
What to Expect
The park has everything, including an impressive amphitheater (available to rent for special events), a number of well-kept tennis courts, volleyball court and picnic areas of all sizes. It's the ideal location for a birthday celebration or outdoor wedding. Visitors love the bike trail located directly off Santiago Creek, and you can take the trail all the way to the Discovery Science Center.
A playground with swings for all ages, along with a peppering of old-fashioned metal slides alongside the bike trails, ensures this is a destination full of charm. Pack a picnic and relax at one of the OC's most beautiful destinations.