Anaheim might be famous for Disneyland and Knott's Berry Farm (or "Merry Farm" during December), but for those looking for a quaint throwback experience, nothing compares to Adventure City. It's the little theme park on South Beach Boulevard that's been thrilling guests since 1994. Located on two acres, you'll find a variety of historic attractions including a gorgeous 1946 carousel featuring 20 horse figures.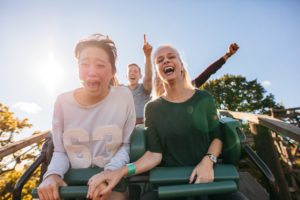 There's also the 1938 miniature railroad, Adventure City Express Train, that gave the theme park its name sake. Check out the Tree Top Racers roller coaster, originally from circa 1950 but replaced in 2015 by a whip-fast coaster dubbed Rewind Racers. You'll also find a romantic Ferris wheel, spinning balloon ride and an adrenaline-inducing tower drop.
Fun for the Whole Family
Throughout the park, you'll find fun, thrills and treats for all ages. Spend an afternoon in the arcade, or take in a show at the children's theater. The Mount Adventurous rock climbing walls are a favorite challenge, and the petting farm lets you get up close and personal with a number of gentle animals including sheep, goats, ducks and more.
Like other theme parks in the area, Adventure City goes all out for the holidays. In December, you'll be treated to special decorations and goodies at the snack shops and restaurants on site. It's the perfect, low-key way to spend a day in Anaheim when you want minimal crowds and maximum fun.