A free shore-fishing class is offered Saturday, July 2 in Playa del Rey. The Los Angeles County Department of Beaches and Harbors has fishing poles and bait available at no cost during this special summer event. The most popular fish this time of year include corbina, leopard shark, surfperch, halibut and croaker. There's no age limit on this event, but anyone under 12 must have adult accompaniment.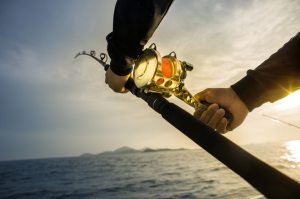 For those over 16, you must have a valid California fishing license. They are easily found at numerous outlets including West Marine and Marina del Rey Sportfishing, both within minutes of the class. Pre-registration is required as classes are limited to 10 attendees. Call 310-726-4128 for more information or to register.
Bait and Hook
The classes take place at the Dockweiler Youth Center at 12505 Vista del Mar, which is just a short drive from your Anaheim hotel. Other options for fishing include a number of fishing tours for all ages and abilities, whether you prefer deep sea fishing in the Pacific or freshwater fishing in one of California's lakes or rivers.
Adding a fishing expedition to your trip is a fantastic way to get away from the bustle of the city, relax, and learn some new skills.