Head to North Hollywood April 6 and every Thursday from 5:30 – 9:30 p.m. for the NoHo Food Truck Collective! Along with some of the best food trucks in town, attendees enjoy live music, games and more. Every week there are different food trucks as well as giant Jenga tournaments. If you really want to get a taste of the Anaheim area, earmark Thursday nights where there's always something new driving into the collective.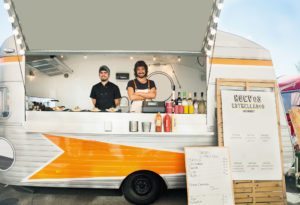 Located at 14155 W. Magnolia Boulevard, it's a short drive from Anaheim and takes all the guesswork out of food-truck hopping. Only the best are welcomed into the collective, and you'll find an eclectic mix of cuisines from Mexican to Greek, Ethiopian to Indian and everything in between.
A Foodie Paradise
It's impossible to sample all the top-rated fare the city has to offer, even for residents. Tourists have to make the most of their time in Anaheim, and it's easy when the Collective keeps an eye out for the latest trucks for you. Staple award winners and promising newbies alike are found here.
Follow the #NoHoFoodTruckCollective on social media for updates on who's going to be there, new musicians and performers, and what games to expect. It's the easiest way to indulge in food truck sampling without driving all over town.