Southern California is a true gastro-destination with flavors and cuisines from around the world featured. If nothing but Korean BBQ will do on a crisp autumn night, Anaheim has you covered with authentic restaurants around town. Start at Cham Soot Gol for an all you can eat experience, grilling your favorite proteins and kimchi on tabletop grills and enjoying non-stop sides from spicy radishes to red bean paste.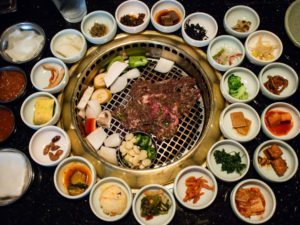 Han Yang is known for their authentic, home cooked dishes. Short-rib soup is their specialty, and it pairs perfectly with a rich seafood pancake or the house kimchi. Fermented sides along with hearty soups and generous chicken, pork and beef options make this a favorite for group outings.
Anaheim's Got Seoul
Head to Mo Ran Gak Restaurant for an informal BBQ eatery with tabletop grilling suitable for large groups. Pair your bulgogi or bibimbap with South Korea's staple adult beverage—soju. To drink like a Korean local, combine soju with a domestic beer for a stronger kick.
You'll also want to check out Korea House BBQ Buffet for a generous spread of classic dishes. Here, you can indulge in all the spicy pork (japchae), house-marinated chicken, seafood and sides you can handle. For dessert? Slices of the freshest local melons.