Japanese cuisine is a favorite in southern California, and, thanks to the proximity to the Pacific Ocean, restaurants are never short on the freshest fish. Try the Hibachi Steakhouse for casual dining and surf 'n' turf specials. Each hibachi table ensures a unique and fun experience for all, and you can customize sides and entrees, and choose from a variety of dessert options. If you want true tableside entertainment, it's a family-friendly pick.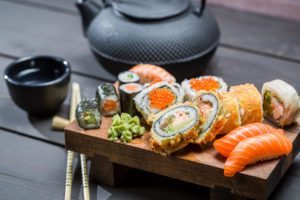 The Teppanyaki Grill Supreme Buffet is an informal buffet beloved for the one-of-a-kind dishes, authenticity, and, of course, the all-you-can-eat goodness. Take your colleagues for a bonding experience, or slip into this local favorite yourself to fuel up for your next vacation outing.
Fresh and Genuine
Boasting a rich Japanese community, the Anaheim area is full of choices when you're craving Japanese fare. The WaBa Grill is a Japanese fusion restaurant where you can get the best of both worlds: That genuine Japanese flavor you crave with innovative California twists. Get a teriyaki bowl with chicken, steak, shrimp and veggies.
Ohshima Japanese Cuisine is a hidden gem, small and quaint but known for having some of the freshest seafood in town. Creative Japanese dishes, imported beer, wine and sake, and the omakase make this an addictive little treasure.