With Los Angeles' famed Chinatown so close, it's no surprise that Anaheim is rich with some of the best authentic and fusion-inspired Chinese restaurants in the area. Try Mas' Chinese Islamic Restaurant for a unique combination of cuisines. Try the "warm pots" with a variety of fillings, or the home-style noodle chow mein with lamb dough, shrimp dough or beef dough.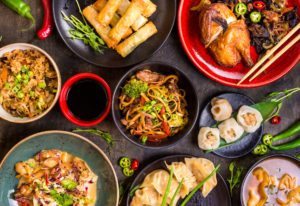 China Kitchen is a simple eatery serving up genuine dishes in a homey environment. Chow Fun is an innovative twist on chow mein, and it has an ample fried rice menu that comes with your choice of chicken, beef or shrimp. If you need to feed a team, try the party tray. The Weight Watchers menu offers healthy alternatives to classics, so there's truly something for every palate.
Feeling Lucky?
Big Chopsticks is a favorite amongst locals, with the most popular menu items including orange chicken made with only white meat in a slightly spicy breading with house orange sauce. Chicken chow mein with soft noodles, cabbage and green onion is also incredible. Add on the cream cheese wontons, egg flower soup and vegetarian egg rolls for a hearty meal.
Sino Fusion is the perfect stop to pair fried dumplings with an impressive beer and wine menu. Try the BBQ pork spare ribs, crispy string beans and fried coconut jumbo shrimp for starters. Offering lunch specials, family dinners, and a variety of spice levels, it's a hidden gem you have to taste to believe.