Have a royally good time at this mini golf palace. Camelot Golfland is located at 3200 E. Carpenter Avenue and is the biggest mini golf destination in the U.S. There's also laser tag, plenty of water slides and a massive arcade. Camelot Pizza is where you can fill up on delicious pies, or grab a shake at Iceberg Shakes to keep the fun going all day.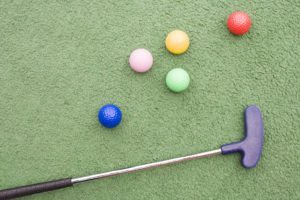 Camelot is part of a mini golf royal family with locations around Southern California, including in the heart of Anaheim. It's the perfect place to host birthday parties, family reunions or other special event. Whether you're looking for a way to spend time with the family, a fun date idea or just want to relax during a business trip, count on Camelot to keep you entertained.
Fit for a King
Since 1953, Camelot has been known for family fun. In the winter months, there are rarely any lines for the water park part of the park, but with the California sunshine it's almost always the ideal swimsuit season. Hop in a bumper boat, or head to the Go Karts and take a few high-speed laps.
Group events are also available, and a great team building outing for businesses. Catering for groups can include massive soft pretzels, nachos, sub sandwiches and custom shakes. No matter what kind of outing you have in mind, Camelot has all the fun, thrills and American fare to make it an event to remember.