Gastro tourists are in for a real treat, and it's as seemingly simple as standard Americana fare. Take a burger tour of the area, starting at The Fix Burger—known for their signature patties. You can customize not just the toppings, but the patty itself! Opt for buffalo, chicken, turkey, grass-fed beef or vegetarian before adding toppings like avocado and fried eggs.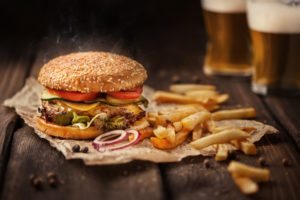 Astro Burger dishes out classic burgers along with mouthwatering veggie burgers and Greek cuisine. Try the Ortega Burger for a little added spice, go Greek with rice-stuffed bell peppers (a surprisingly sultry side), and go crazy with the plethora of fry options.
Big Bites
Fresh & Meaty Burgers are known for their turkey patties, although they also serve traditional beef. Cooked to order, this veteran staple features all meats, which are purchased fresh daily. For dessert, how about self-served ice cream, a pie slice or cake? Chili cheese Fritos are the preferred side dish here.
A&T Burger is a retro, kitschy dive that does fast food right from breakfast to dinner. Get your burger with a side of onion rings or fries, and if you're craving something with a little more kick, there's an impressive Mexican menu here. No matter where you satisfy your burger cravings, you'll be in for a treat in Anaheim.